Comet-Con is a holiday celebrated in many of Papa Louie's restaurant-time management games. When a player reaches this holiday in any of the games below, Iggy makes his first appearance as well:
The badge "Out of This World" is earned when all the Comet-Con holiday-exclusive ingredients are unlocked.
Customers bring telescopes or lightsabers to celebrate the holiday.
Customers who like this holiday
Comet Con Cupcake Liners

Comet Con-Exclusive Ingredients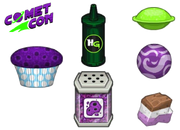 Trivia