Thank you for joining Flipline Fandom!

Welcome to Flipline Fandom. We're a collaborative community website that provides details about the characters, fan games, tournaments, apps and platformer games created by users of this wikia, you can participate!

In this wiki, you will see all the fans of Papa Louie and Flipline Studios come together.

Featured Article
Papa's Scooperia is the 14th game in the Papa Louie's restaurant management series. The game was first announced on January 16, 2018. Carlo Romano and Koilee are the workers in this game, as they were the winners of Papa's Next Chefs 2017. The game takes place in Oniontown. The winner of Kingsley's Customerpalooza 2017, Amy, makes her official debut as a customer in the game.
Read More...

Featured Image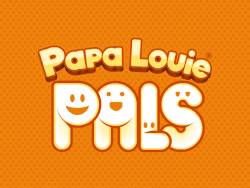 Customer of the Month
Nye
Nye is a customer who will debut in Papa's Wingeria To Go!. He's a fan-made customer selected by fans in Kingsley's Customerpalooza 2018, created by Zetsu. Nye has light colored skin, along with short, bleach blond hair. He wears a backwards white baseball cap with pink, green, and blue splotches. Nye also wears a black belt, and a blue and pink collared plaid shirt with a blue bomber jacket. He wears navy blue pants and side shields glasses with pink and white lenses. Nye also wears blue shoes with pink laces and zigzags on the front, along with blueish fur. And he is the first confirmed LGBTQ customer of the Flipverse, it was confirmed by his creator, Zetsu.

Oficial Webs of Flipline
Flipline Studios • Papa Louie Arcade! • Remnants of Skystone
Other Flipline Game Wikias
Flipline Studios Wiki • Remnants of Skystone Wiki • Cactus McCoy Wiki • Steak and Jake Wiki • Jacksmith Wiki
Other Fanon Wikias
Flipline Fanfiction Wiki • Papa Louie Episodes Wiki • Fan Papa Louie Customers Wiki • Flipline Fiction Wiki • Papa Louie Fanon Wiki • Papa Louie Fanon 2 Wiki • Papa Louie Estudios Wiki • Flipline Fan Arcade Wiki • Flipline Fan Customers Wiki

Visit our wikia in other languages.