Thank you for joining Flipline Fandom!

Welcome to Flipline Fandom. We're a collaborative community website that provides details about the characters, fan games, tournaments, apps and platformer games created by users of this wikia, you can participate!

In this wiki, you will see all the fans of Papa Louie and Flipline Studios come together.
Featured Article
Luis Angel's Next Chefs 2017 tournament is the second Next Chefs tournament of LuisAngel01 to select the chefs for the next gameria.
Read More...

Most Popular Customer
Luis Angel
Luis Angel is happy living in his hometown, he live with his brother Foxter, a fox that Professor Fitz managed to anthropomorphize in one of its projects; from 3 years for family reasons...
Read More...

Customer of the Month
Mindy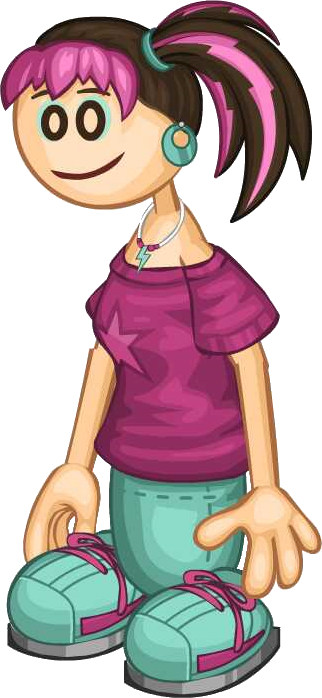 Mindy is a talented hairdresser from Tastyville. She and her mom, Vicky, run the Cloudberry Beauty Salon across from Papa's Pizzeria. Mindy has been known to practice on herself and has had many hairstyles and colors through the years. Mindy has many clients including Timm who comes in every other month for a very manly perm.
Oficial Webs of Flipline
Flipline Studios • Papa Louie Arcade! • Remnants of Skystone
Other Flipline Game Wikias
Flipline Studios Wiki • Remnants of Skystone Wiki • Cactus McCoy Wiki • Steak and Jake Wiki • Jacksmith Wiki
Other Fanon Wikias
Flipline Fanfiction Wiki • Papa Louie Episodes Wiki • Fan Papa Louie Customers Wiki • Flipline Fiction Wiki • Papa Louie Fanon Wiki • Papa Louie Fanon 2 Wiki • Papa Louie Estudios Wiki • Flipline Fan Arcade Wiki

Visit our wikia in other languages.

Ad blocker interference detected!
Wikia is a free-to-use site that makes money from advertising. We have a modified experience for viewers using ad blockers

Wikia is not accessible if you've made further modifications. Remove the custom ad blocker rule(s) and the page will load as expected.