Sugarplex Film Fest is a holiday celebrated in many of Papa Louie's restaurant time-management games. Upon reaching this holiday in any of the games below, Rita makes her first appearance as well:
Either the achievement "Concession Stand" or "Movie Marathon" is earned when all the Sugarplex Film Fest holiday-exclusive ingredients are unlocked.
Customers bring movie tickets to celebrate the holiday.
Customers who like this holiday
Sugarplex Film Fest Cupcake Liners

Sugarplex Filmfest in Broadway-Style Font with a Red Background
Film Strip
Cinema Decals
Yellow Polka Dots in Black Background
Sugarplex Film Fest-Exclusive Ingredients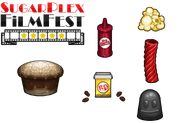 Trivia
The Sugarplex Theater, which is located in Burgerburgh, annually hosts the Sugarplex Film Fest held by the company.
In both games, Rita and Iggy are unlocked with a holiday ingredient.
Ad blocker interference detected!
Wikia is a free-to-use site that makes money from advertising. We have a modified experience for viewers using ad blockers

Wikia is not accessible if you've made further modifications. Remove the custom ad blocker rule(s) and the page will load as expected.